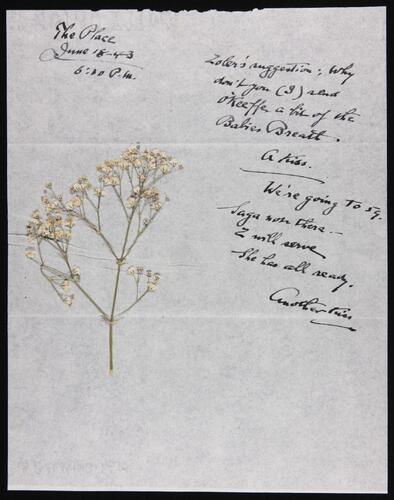 Letters from Stieglitz to O'Keeffe, dated June 15-30, 1943. From the Alfred Stieglitz / Georgia 

O'Keeffe Archive. Call number: YCAL MSS 85 
Painter Georgia O'Keeffe and photographer Alfred Stieglitz exchanged thousands of pieces of paper between 1915-1946. Married in 1924, the pair initially exchanged love letters, yet later correspondence documents the ebb and flow of their romantic life. In several letter exchanges, O'Keeffe and Stieglitz include other encapsulations—pressed flowers, ribbons, feathers, and photographs. This micro-exhibition explores the animacies given to these "epistolary travelers" and the fantasies of travel, feelings of desire, and love of place embodied by them.
Collections 
Alfred Stieglitz/Georgia O'Keeffe Archive
Alfred Stieglitz Autochromes
Mable Dodge Luhan Papers
Additional Resources 
My Faraway One: Selected Letters of Georgia O'Keeffe and Alfred Stieglitz: Volume One, 1915-1933 (2011), Edited by Sarah Greenough
 Georgia O'Keeffe (1976), An Autobiography by Georgia O'Keeffe
Georgia O'Keeffe Museum, "Stories from the O'Keeffe"
View the micro-exhibit here. 
Link to micro-exhibit: https://sway.office.com/NwXa1yRwq156eKM0?ref=Link
Curated by Claire Barnes, Yale Divinity School